Overview of Escam Watt QP135 Bulb WiFi IP Camera 960P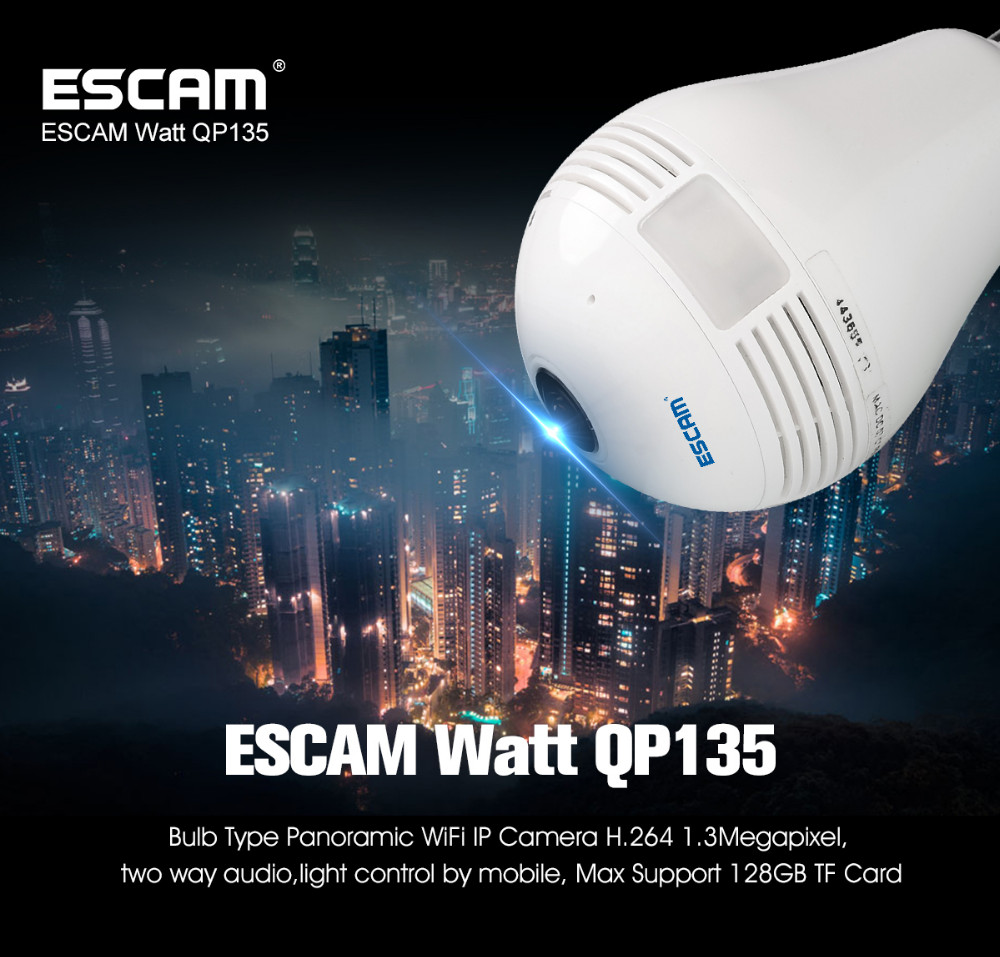 CCTV berbentuk bohlam lampu yang dapat digunakan sebagai kamera pengintai di toko, rumah, ataupun kamar Anda. Memiliki fitur deteksi jika ada pergerakan, berbicara dua arah, remot kontrol lampu. Anda juga dapat melihat gambar secara 360 derajat.
Features
Bulb Type 360 Degree Panoramic Camera
Anda dapat memantau hasil dari CCTV bola lampu ini secara 360 derajat fish eye, jangkauan yang luas hingga kesudut ruangan Anda. Kamera ini juga didesain agar dapat dijadikan sebagai hidden camera.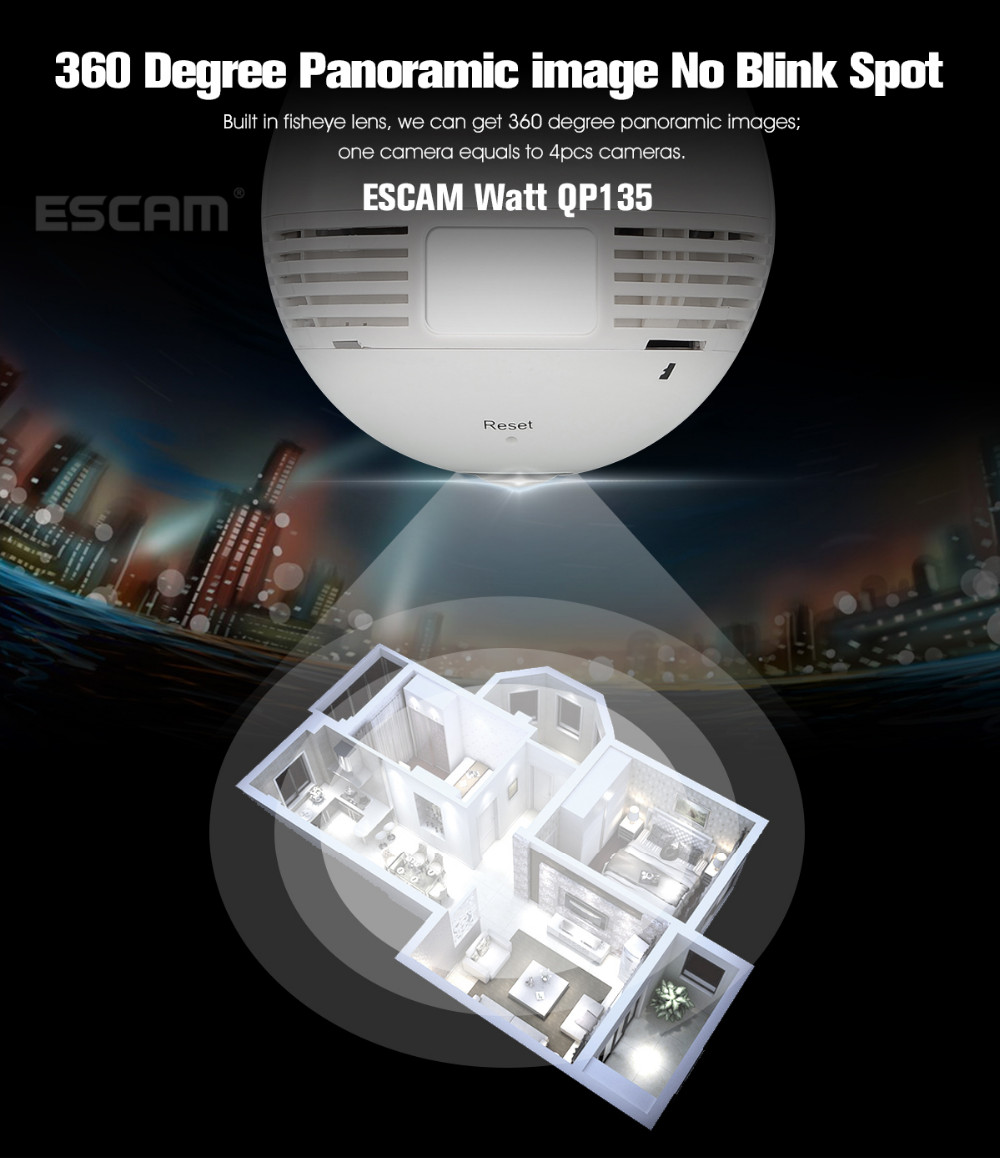 Two Way Talk
Via Mobile Anda dapat melihat dan berbicara dengan lawan bicara Anda karena build in Microphone, memberikan kenyamanan untuk memperhatikan dan berkomunikasi dengan keluarga Anda.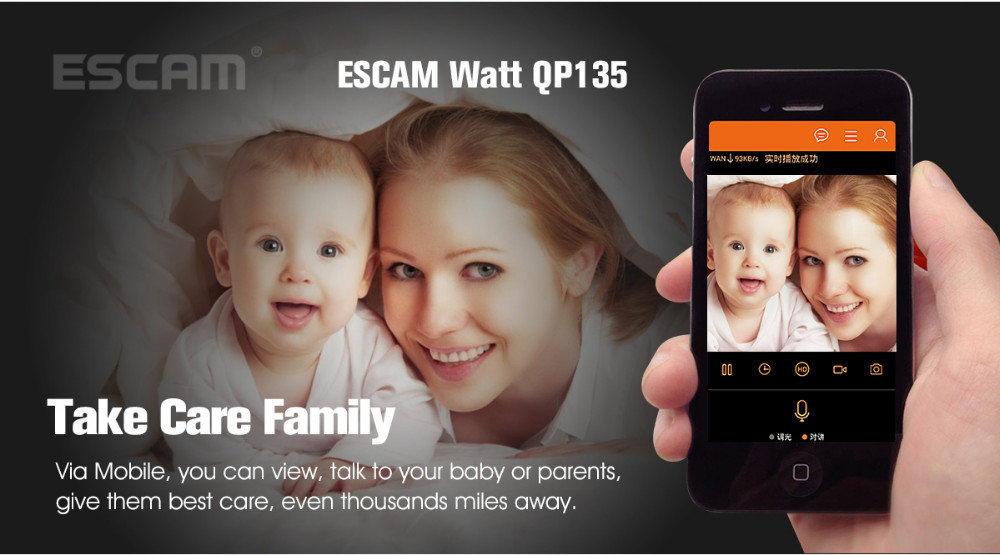 Motion Detection
Salah satu fitur terpenting pada CCTV selain sebagai kamera pengintai adalah fitur pendeteksi gerak, kamera akan memberikan pesan ketika terdapat gerak-gerik yang mencurigakan. Dilengkapi dengan CMOS Sensor.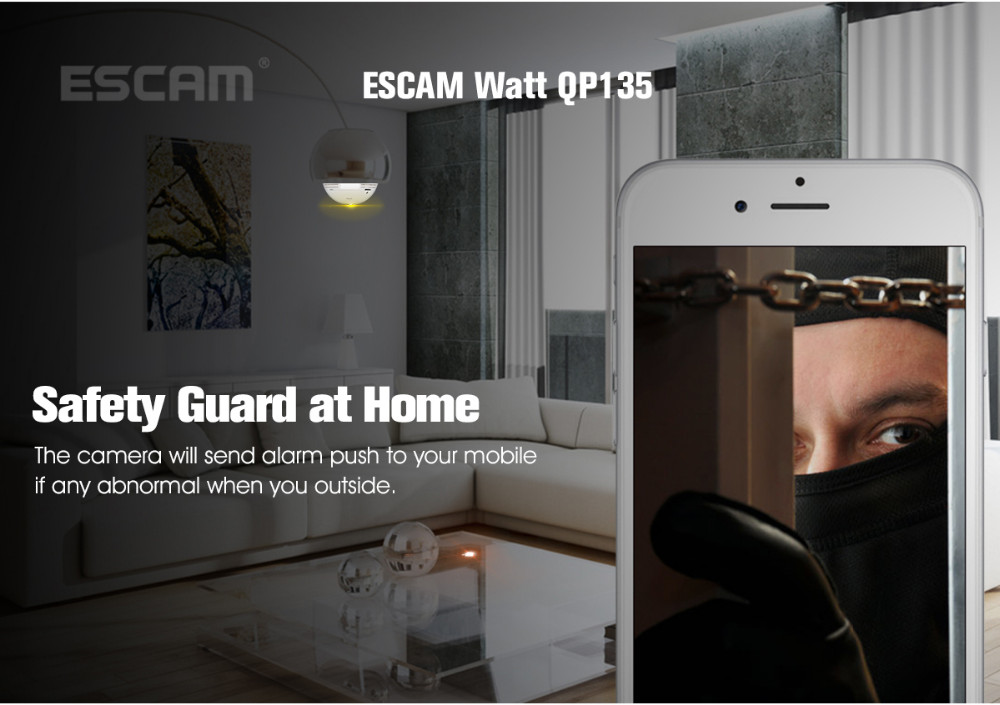 H.264 Compression
H.264 Compression memberikan kita penglihatan yang lebih jelas, namun bit rate yang mini sehingga menghemat pemakaian storage penyimpanan data Anda.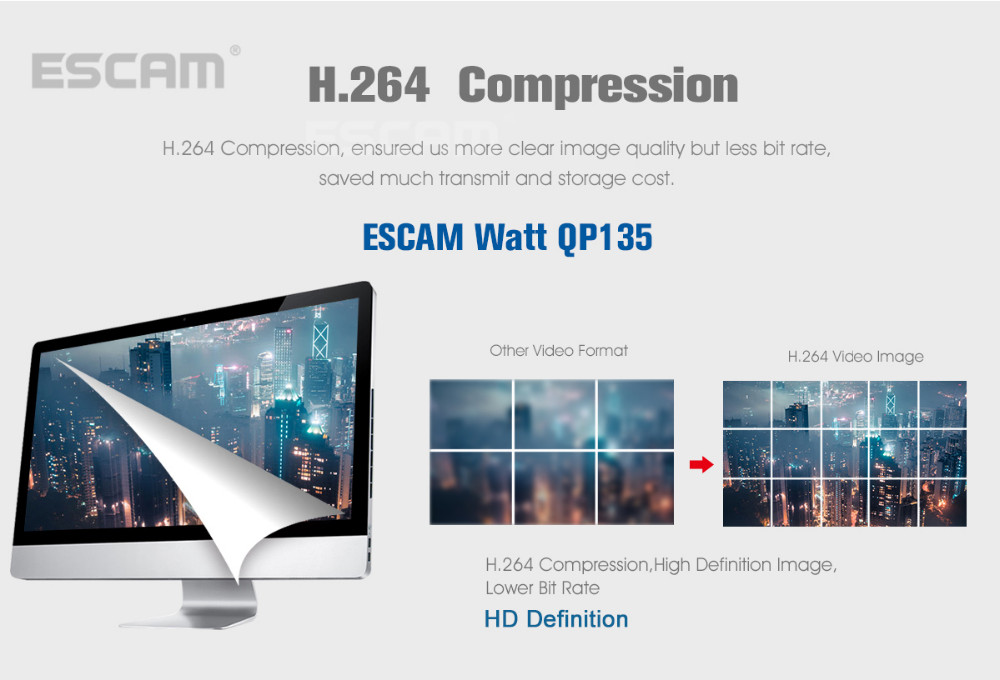 HD 960P Camera
Kamera CCTV yang gambarnya buram akan mempersulit Anda ketika mendeteksi wajah seseorang/pencuri. Bulb IP Camera ini dilengkapi dengan kamera 1.3 Megapixel dengan resolusi 1280 x 1024. Membuat Anda dapat melihat hasil dari gambar dengan kualitas yang sangat baik.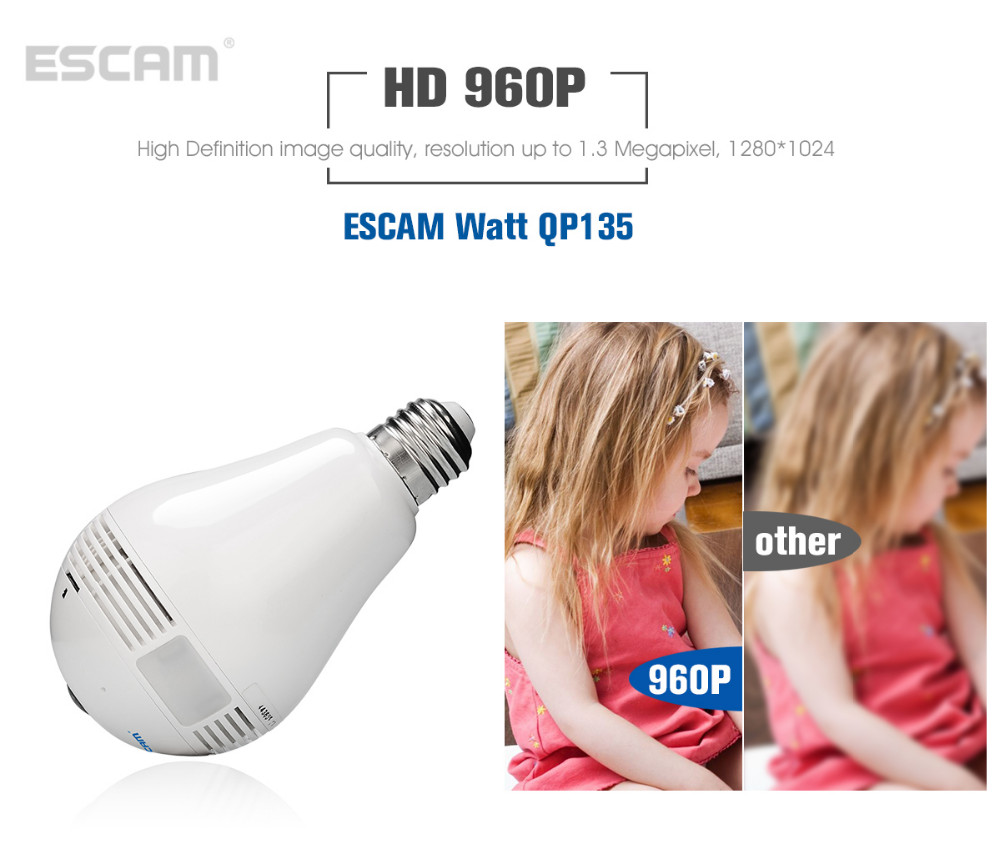 WiFi Connection Real Time
Tanpa Kabel network Anda dapat mengkoneksikan bohlam lampu CCTV ini dengan mudah, mengkontrolnya lewat smartphone secara real time.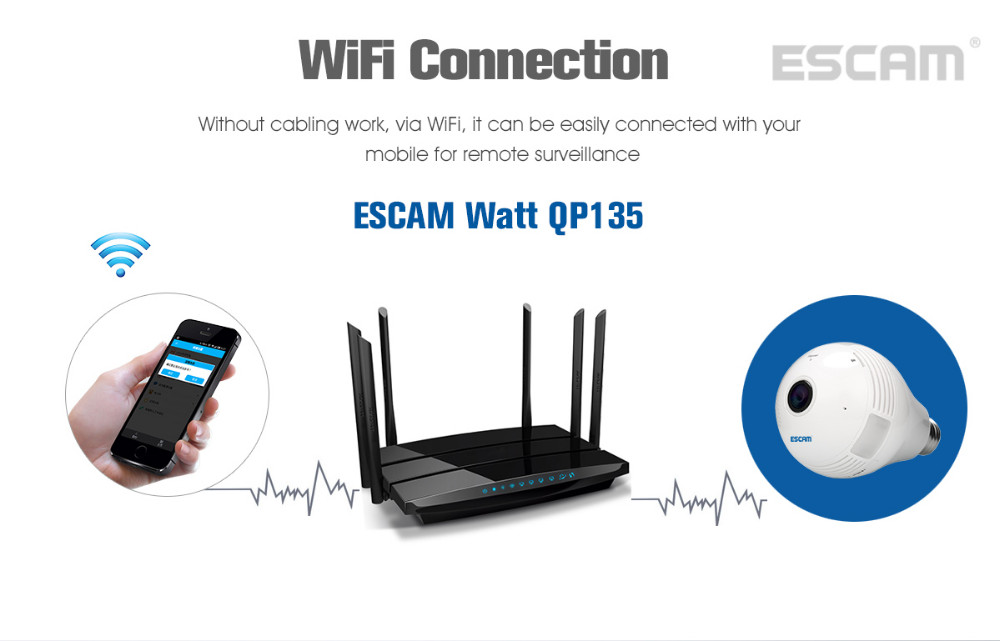 Support TF Card up to 128GB
Jangan khawatir akan storage penyimpanan data, karena Anda dapat menyimpan data hingga 128GB, cukup untuk merekam banyak kejadian.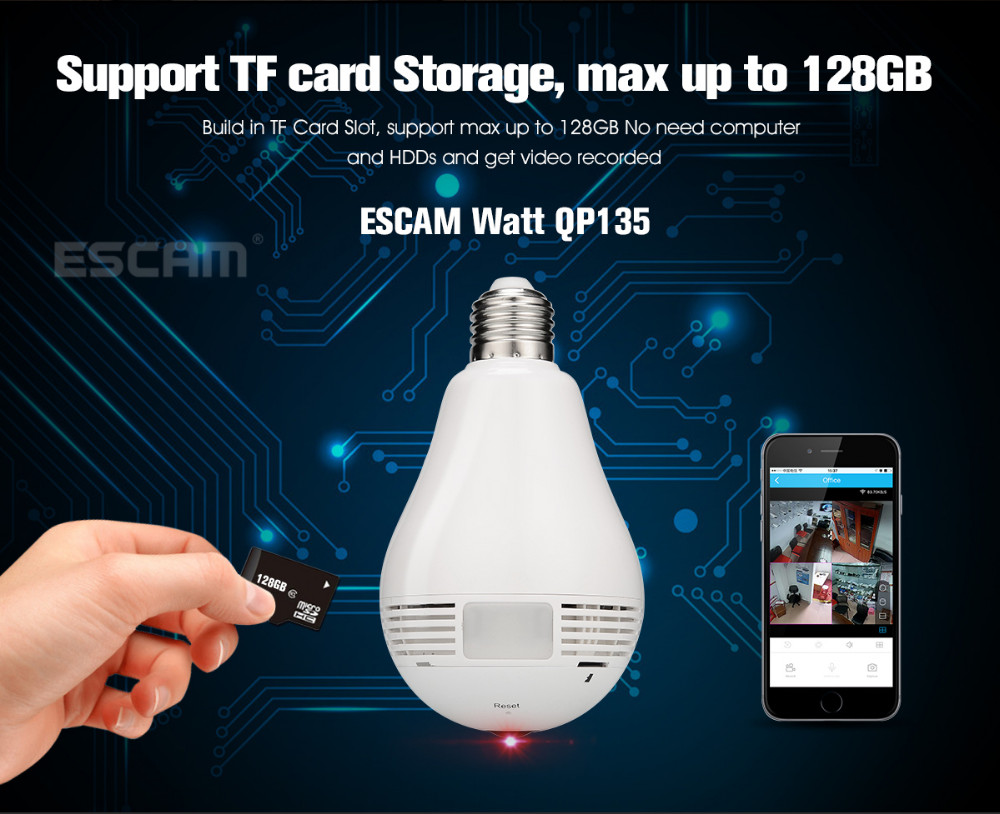 Support iOS and Android
ESCAM Watt QP135 ini cocok dengan iOS atau android smartphone.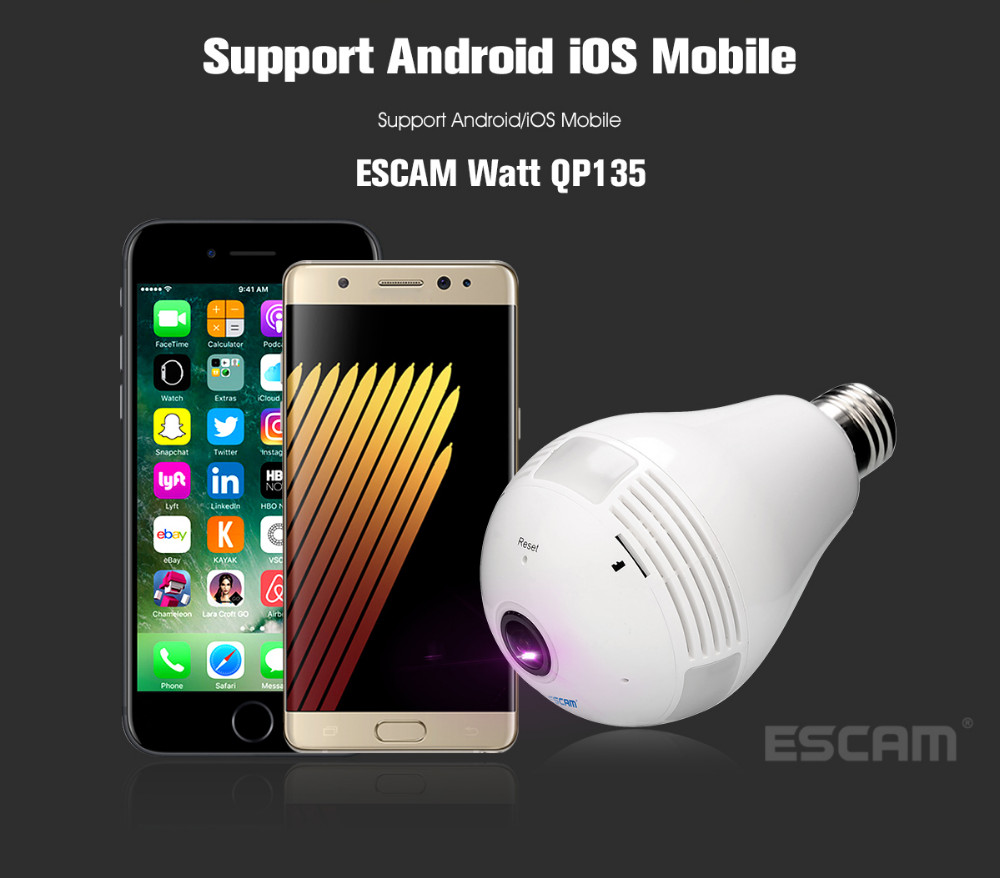 Product Showcase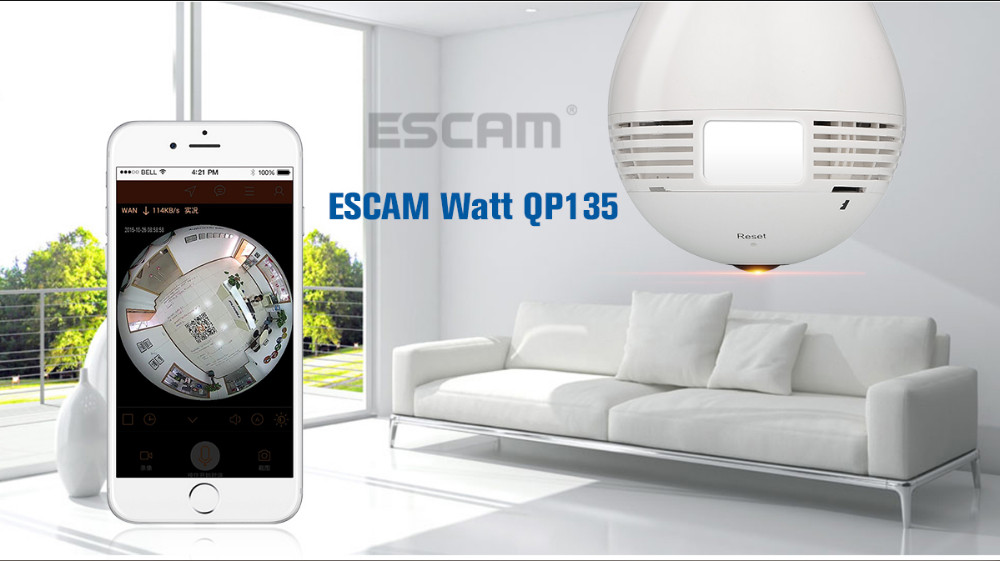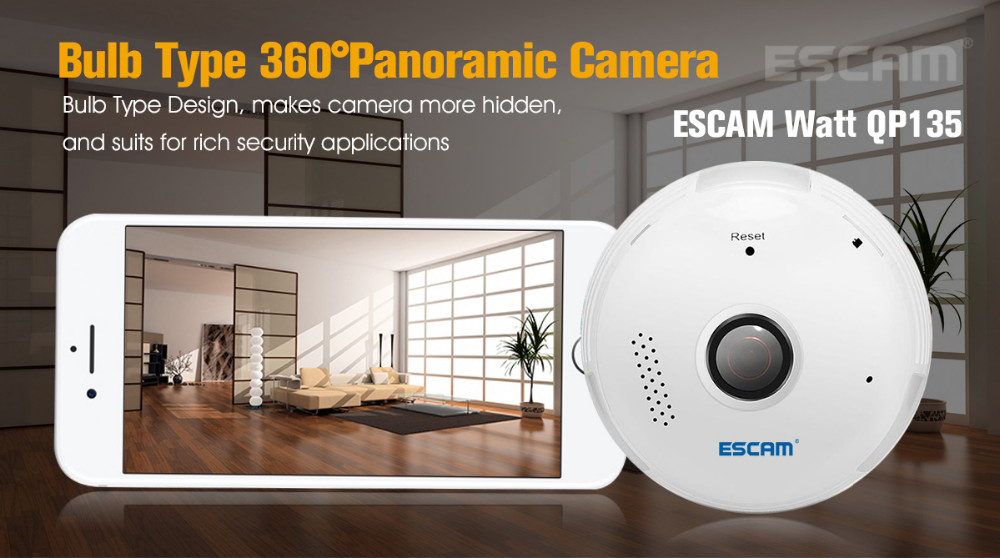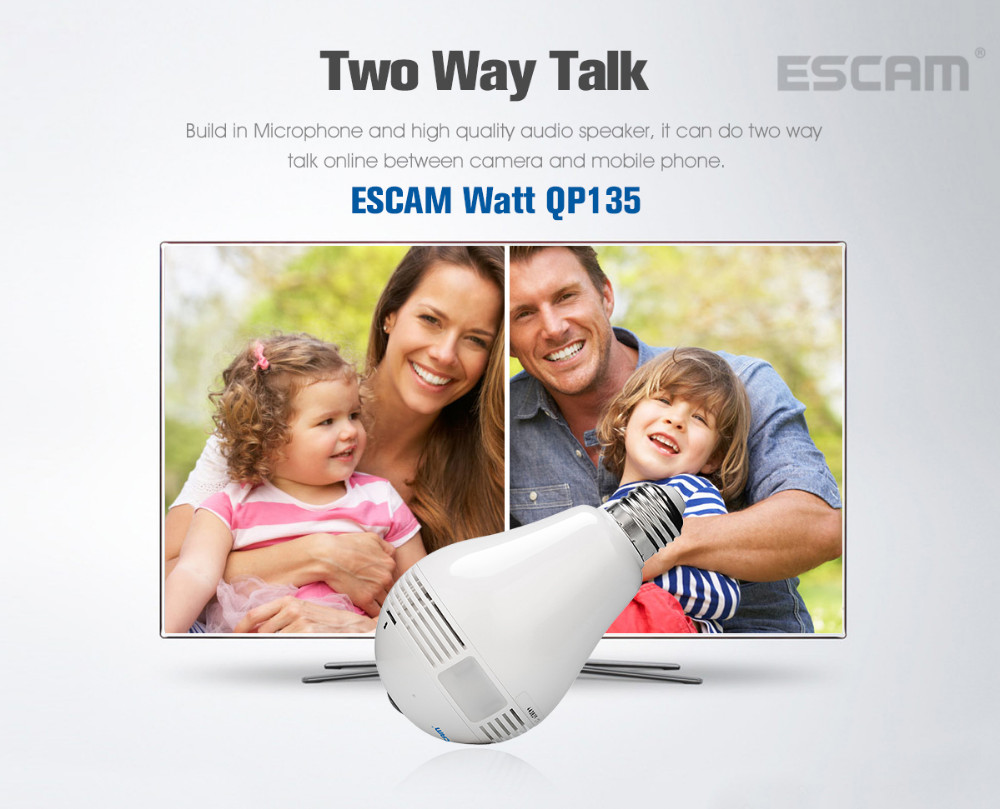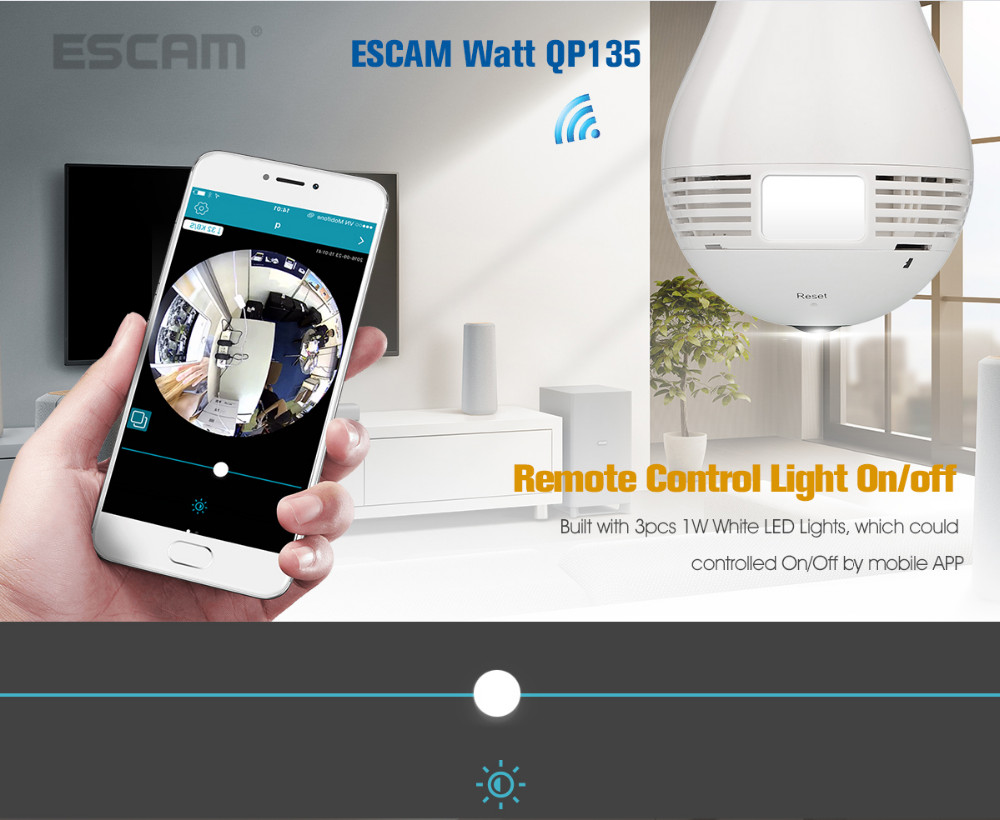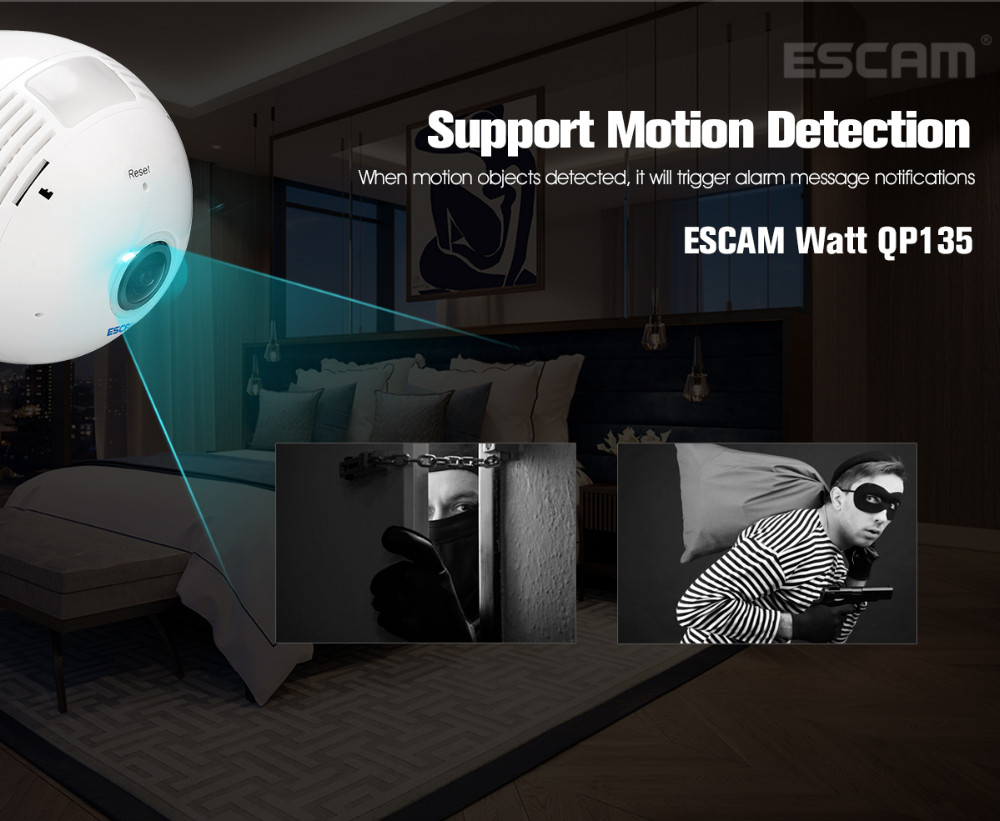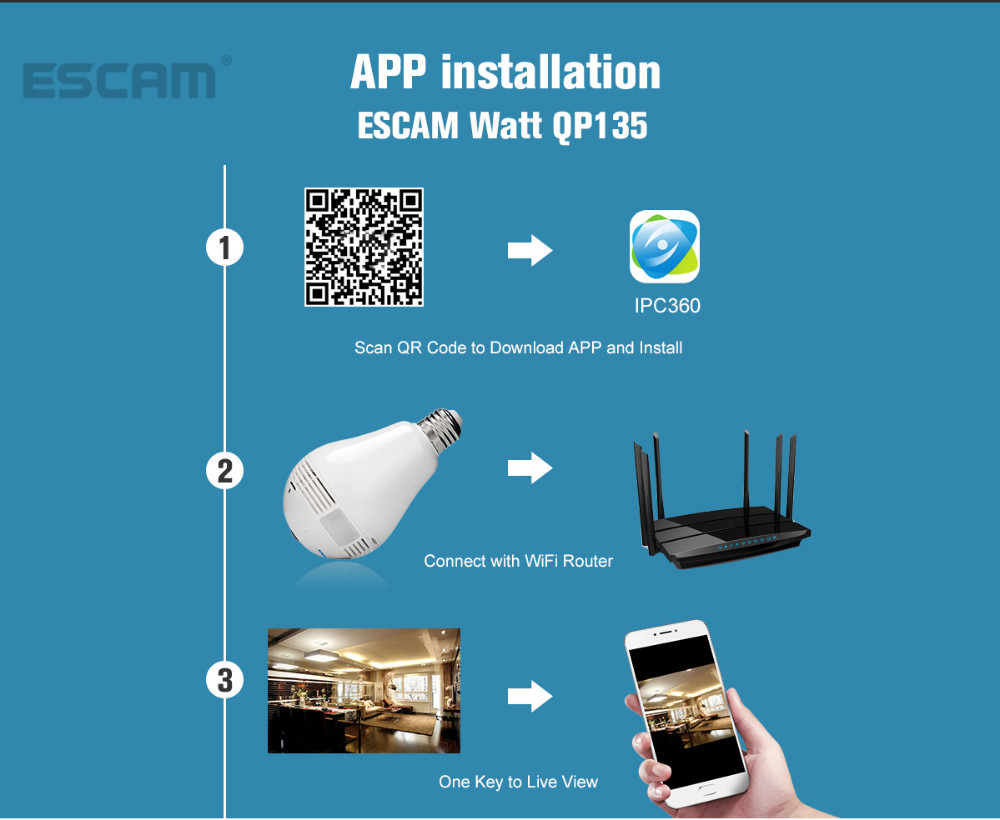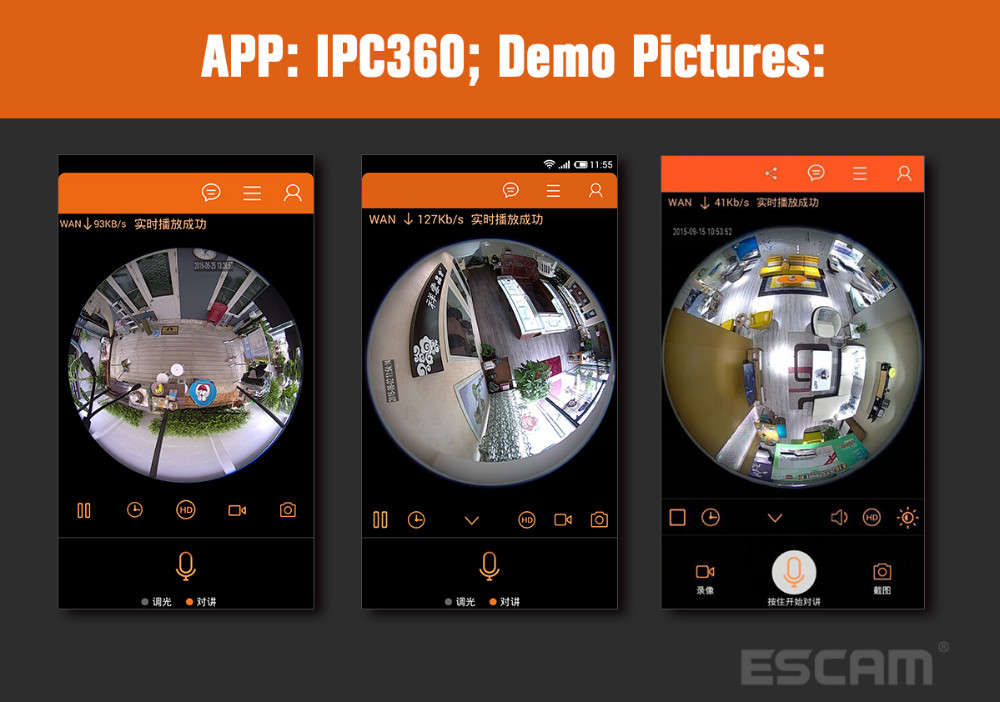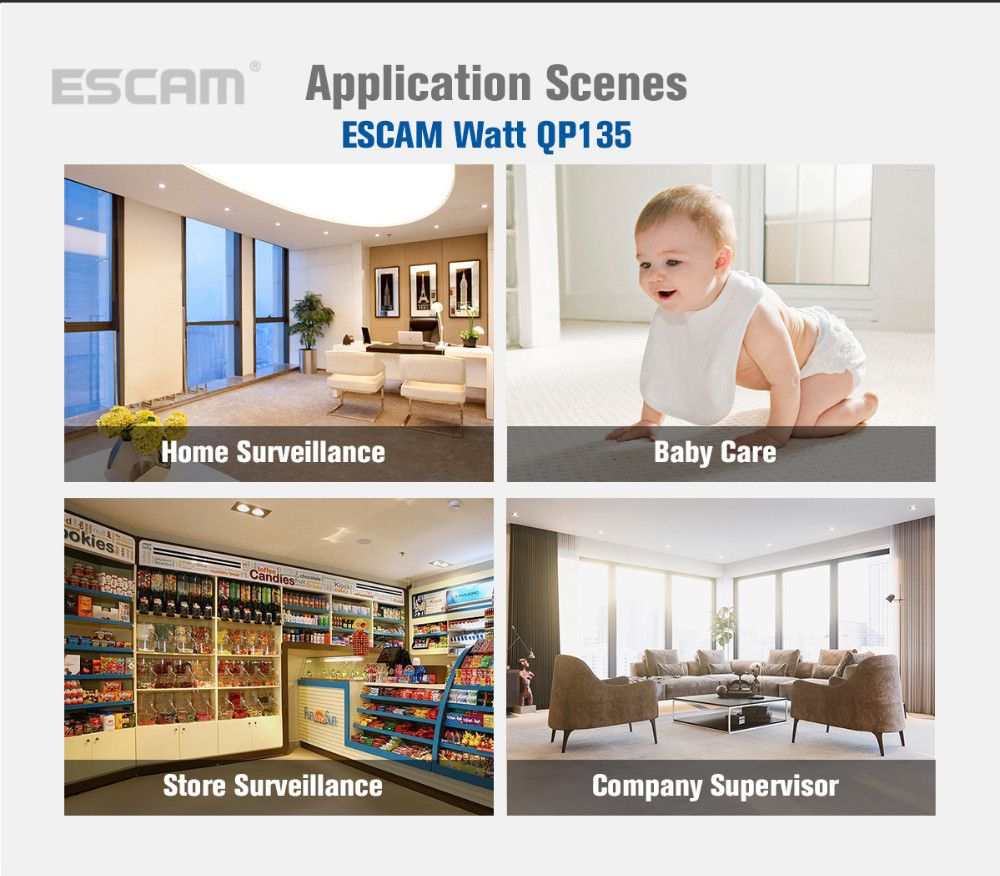 Detail Spesification
Model
Camera
ESCAM Watt QP135
Image sensor
1/3" Progressive Scan CMOS
Angle of view
Diagonale 185°/ level 185°/ vertical185°
Lens
F2.2/1.29mm Fisheye Lens
Two Way Audio
Support
Motion Detection
Support
Advance Event Management
Triggered by motion,notifications broadcast to APP
SD Card
Support Up to 128GB TF card
Video
Video Signal System
PAL&NTSC
Video Resolution
1.3MP: 1280*1024
Video stream 1(HD)
1.3MP(1280*1024)
Video stream 2(Fluency)
D1(704*576)
Video Codec
H.264@ 25 fps
Auido Codec
AAC
Minimum illumination
0.02Lux@F2.2(IR ON)
Network
WIFI
Support IEEE802.11a/b.n@2.4GHz
General
APP (iOS & Android)
IPC360
Illumination
3x1W white LED
Lamp Socket
E27 threaded base
Power Supply
AC100-240V,50-60Hz
Power Consumption
<6W
Temperature and Humidity
0?-40? / 10%-95%
Smart Phone
iPhone, iPad, Android
Size
80mm x 80mm x 138mm
weight
0.15kg
Package Size
170mm x 110mm x 100mm
weight
0.41kg
Photos of Escam Watt QP135 Bulb WiFi IP Camera 960P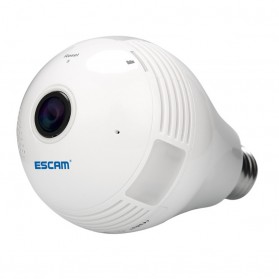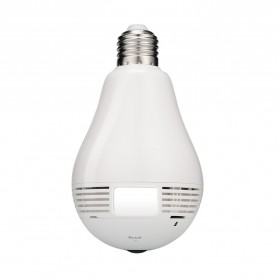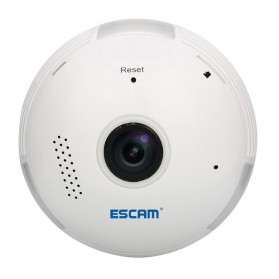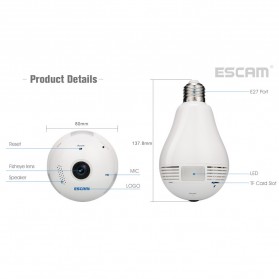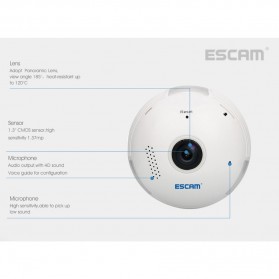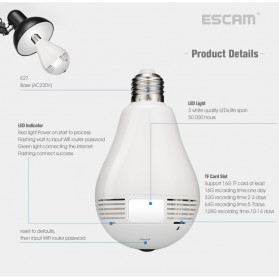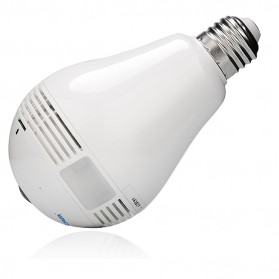 Video of Escam Watt QP135 Bulb WiFi IP Camera 960P
Technical Specifications of Escam Watt QP135 Bulb WiFi IP Camera 960P
Camera
1/3" Progressive Scan CMOS
Display Max. Resolution
960P HD
Networking
Support IEEE802.11a/b.n/2.4GHz
Power Supply
AC100-240V,50-60Hz
Dimension
80mm x 80mm x 138mm
Others
Technology:Infrared
APP (iOS & Android) IPC360
Illumination 3x1W white LED
Lamp Socket E27 threaded base
Power Supply AC100-240V,50-60Hz
Power Consumption <6W
Temperature and Humidity 0?-40?/10%-95%
Smart Phone iPhone, iPad, Android